About
Experience God's Word and the move of the Holy Spirit
Jan
16
Tue
2018
RBTC Healing School
Jan 16 @ 4:00 pm – Dec 18 @ 5:00 pm
You are healed. That's the message those who attend Healing School hear, and it's the message Rev. Kenneth E. Hagin intended for them to hear when Healing School began in 1979 on the Rhema USA campus. Brother Hagin believed that people need the medicine of God's Word. At Healing School, that Word is put into action every day. Healing School is a place, as Brother Hagin desired, where the sick can go and have faith put into them, so to speak, rather than have their faith taken out of them through religious tradition and unbelief. It is a place where the sick are healed and the oppressed are set free—a place where miracles happen always! Healing School is free and open to the public.
Jun
20
Wed
2018
Holy Ghost Meetings 2018 @Abuja
Jun 20 @ 6:00 pm – Jun 23 @ 8:30 pm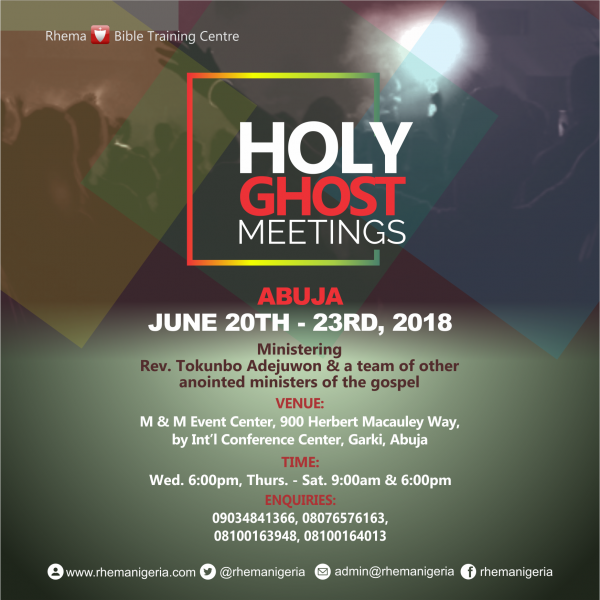 You are specially invited to the Holy Ghost Meetings taking place in three cities this coming June, 2018.
What is a Holy Ghost meeting? It's a meeting where the Word of God is preached and or taught; the Spirit of God is leading, guiding, in demonstration and in manifestation; and the needs of the people are met and they are full of joy.
Rhema Bible Training Centre was founded on two main principles: the integrity of the Word of God and the move of the Holy Spirit. While the primary thrust of Kenneth Hagin Ministries is to "Go teach My people faith" we also have a divine mandate to teach on the Holy Spirit by precept and by demonstrations of the power of God.
These meetings are primarily for our students, alumni, partners and Friends. We are also opening them up to the general public.
DATE: June 20 – 23
VENUE: M & M Event Center, 900 Herbert Macauley Way, by Int'l Conference Center, Garki, Abuja
TIME: 9:00am & 6:00pm daily, Wednesday 6:00pm only
ENQUIRIES: 09034841366, 08076576163
Please click https://goo.gl/forms/CCnI9payYpnPSZqn1 to pre-register for this meetings, we look forward to seeing you in your city.
Jun
24
Sun
2018
RBTC Prayer School
Jun 24 @ 4:00 pm – 5:00 pm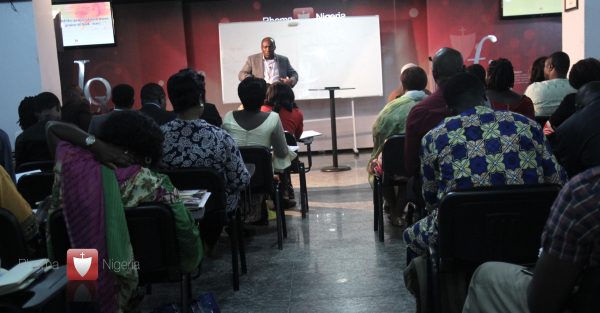 At Prayer School, Rhema Bible Training College students and others immerse themselves in an atmosphere of victory. Founded in 1979 by Kenneth E. Hagin, Prayer School is a place where the Spirit of God can move freely. And it is a place where those learning how to pray are taught by both precept and example. People attending Prayer School learn to follow the Holy Spirit and take hold of the things of God. They pray boldly for nations, for Rhema, and for God's plan for their own lives. Prayer school is free and open to the public.