About
Experience God's Word and the move of the Holy Spirit
Jan
16
Tue
2018
RBTC Healing School
Jan 16 @ 4:00 pm – Dec 18 @ 5:00 pm
You are healed. That's the message those who attend Healing School hear, and it's the message Rev. Kenneth E. Hagin intended for them to hear when Healing School began in 1979 on the Rhema USA campus. Brother Hagin believed that people need the medicine of God's Word. At Healing School, that Word is put into action every day. Healing School is a place, as Brother Hagin desired, where the sick can go and have faith put into them, so to speak, rather than have their faith taken out of them through religious tradition and unbelief. It is a place where the sick are healed and the oppressed are set free—a place where miracles happen always! Healing School is free and open to the public.
Aug
19
Sun
2018
RBTC Prayer School
Aug 19 @ 4:00 pm – 5:00 pm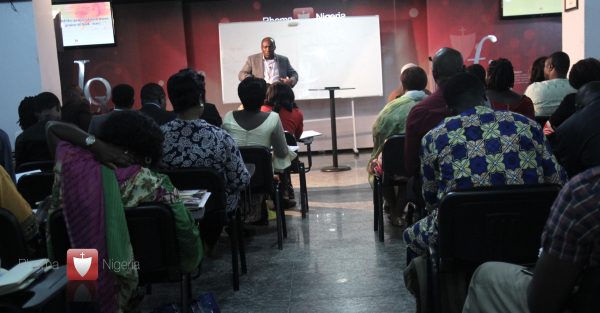 At Prayer School, Rhema Bible Training College students and others immerse themselves in an atmosphere of victory. Founded in 1979 by Kenneth E. Hagin, Prayer School is a place where the Spirit of God can move freely. And it is a place where those learning how to pray are taught by both precept and example. People attending Prayer School learn to follow the Holy Spirit and take hold of the things of God. They pray boldly for nations, for Rhema, and for God's plan for their own lives. Prayer school is free and open to the public.
Aug
22
Wed
2018
Rhema Kids Treasure Chest (Kaduna)
Aug 22 @ 9:00 am – Aug 24 @ 2:00 pm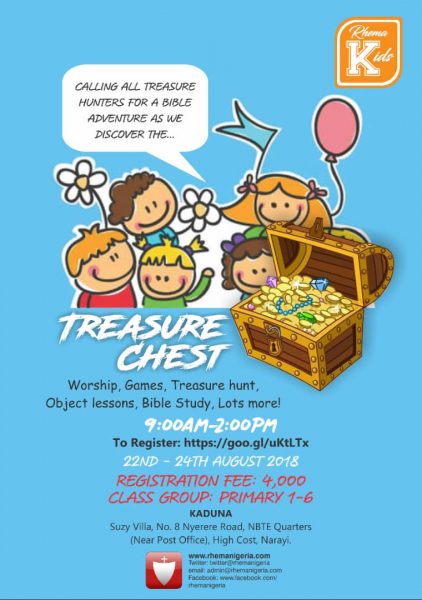 There is so much Treasure to gain when we Honour and obey God!
This is calling all Treasure Hunters for a Bible Adventure as we discover the Treasure Chest. Children will learn what it means to Honour and Obey God, His Word, the Holy Spirit, Parents, and Authority.
Featuring Worship, Games, Treasure hunts, Object Lessons, Bible Study and lots more!
This event is restricted to children in the Class Group of Primary 1-6.
Date: 22nd – 24th August 2018
Venue: Suzy Villa, No. 8 Nyerere Road, High Cost, Kaduna
For registration, please go to: http://bit.ly/treasure2018. A registration fee of N4,000 is required.
If you prefer online payment for the registration fee, please go to: https://paystack.com/pay/sh5503wxvn
For more details, please call: 08028448260 08030764464
Registration closes on the 18th of August 2018. Limited spaces available!